Setting Nikon Capture NX 2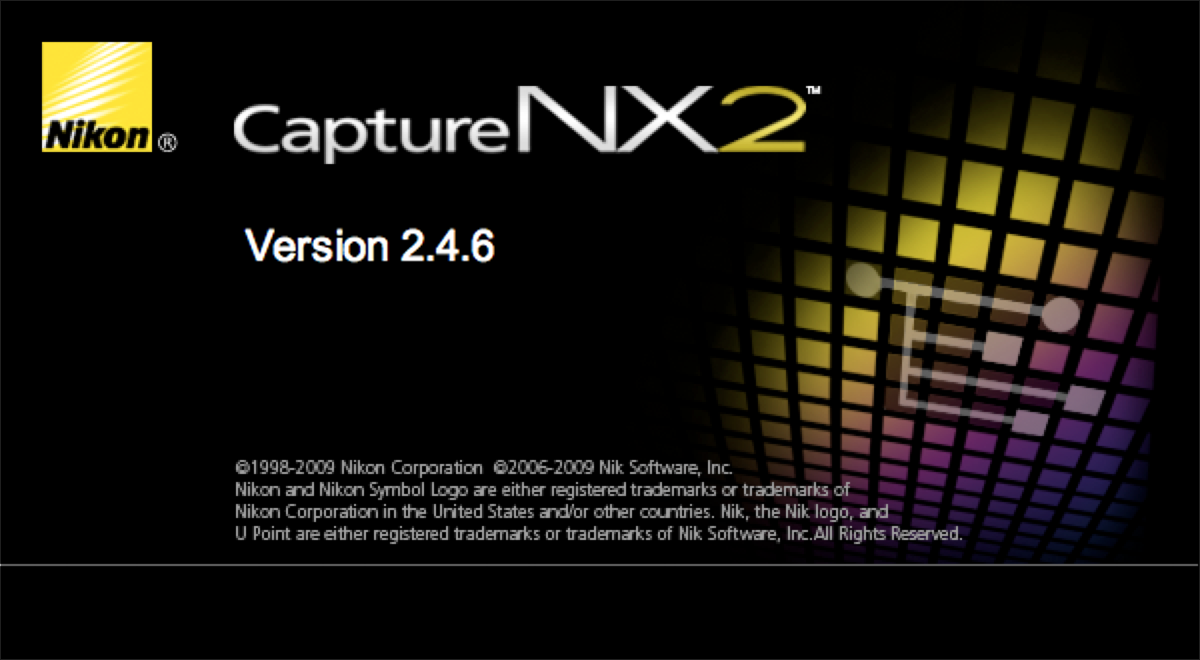 Raw2Nef produces files that are not understood (or better said, welcome) by the last version of CNX2, so you need to use the last but one version, 2.4.6.
If you already had 2.4.7 installed, keep your key code safe, uninstall it. Nikon provides installation cleaners, see the links at the left. Then, reinstall 2.4.6, and configure the color management settings.
Raw files do not have an associated color space, but one needs to be selected when processing and producing jpg or tiff files. For Raw2Nef files, your color space of choice has to be forced in CNX2, as follows:

Downloading and unzipping Raw2Nef
You have the links to download the latest version of Raw2Nef at the upper menu. Pick your choice and download a zip file. Raw2Nef does not need any administrative rights, and can be installed in any folder of your choice. When started, it will create a file, $HOME/.raw2nef, that will store your preferences.
Setting Raw2Nef preferences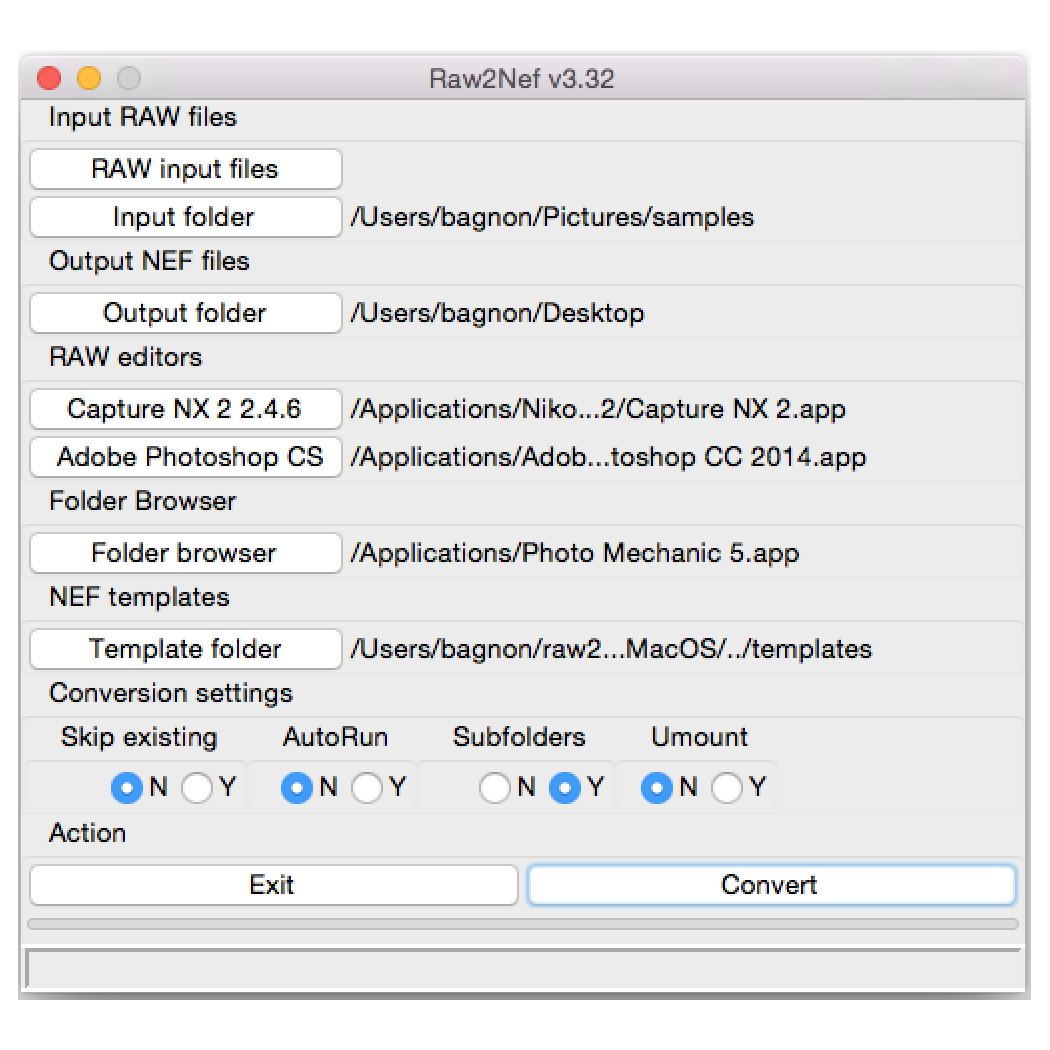 Configuring Raw2Nef is quite straighforward. The options that you choose remain between program invocations. You will learn later about the two modes of operation of Raw2Nef, batch and single file modes, but you will be configuring Raw2Nef for both now.
First, for batch mode, you can select the source folder from which to read the files to be converted, this can be either a regular folder, or a card mount point. For this, press the "Input folder" button, and proceed. You also need to choose where to place the generated files, with the "Outout folder".
When converting individual files, Raw2Nef will invoke Capture NX 2, it you select its executable file location. The same applies to Adobe Photoshop, see the buttons under "RAW editors".
When converting files in batch mode, Raw2Nef can invoke a proper photo browser, like Camera Bits Photo Mechanic, choose your preferred one with the "Folder browser" button.
There is also a button to identify a folder where Raw2Nef is to find NEF templates. For your initial run, leave this as it is, as the default value is good.
Some options can be decided to fine tune how Raw2Nef behaves, these are the checkboxes at the lower part of the tool window:
Skip existing: avoids overwriting existing files if you run the conversion more than once.
Auto Run: starts the conversion as soon as invoked. This can be useful to digest files from memory cards, if you associate the mount of the card to Raw2Nef in your Operating System.
Subfolders: if selected, searchs for candidate files in the subfolders of the input folder.
Umount: attempts to unmount the input device after running the conversion. No pictures are deleted from the input folder ever.
Registering Raw2Nef as a NEF aware application
You may want to register Raw2Nef to open NEF files from your file explorer and your favourite photo browser. With this, as you open one or more supported files, a new converted version will be created in the output folder, and open with CNX2. This way, you can store all your original files, and create CNX2 variants with Raw2Nef and edit them on the fly.

One final trick: Raw2Nef generated files are not well understood by Adobe Camera Raw. If you open one of these files, you'll see that it shows a wrong picture size. To circunvey this, if you process again one of these files with Raw2Nef, it will create a file with the prefix "CS6_", setting back the original camera info that makes Adobe Camera Raw work fine.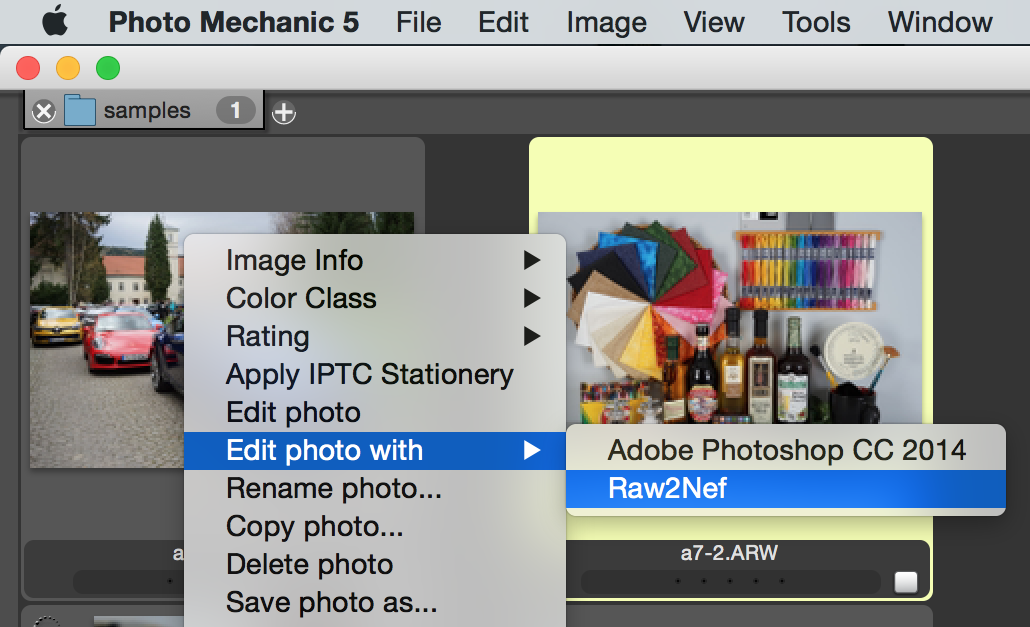 Setting your camera
For Nikon cameras, Raw2Nef only supports 14 bit files, either uncompressed or lossless compressed. No 12 bits, no lossy compressions. You also need to shoot full picture size, as crop modes are not supported.
For Sony cameras, Raw2Nef also requires full picture size files.
Up
Deinstalling Raw2Nef
Deleting Raw2Nef
Just delete the executable file that you downloaded.
Deleting the templates
Only for Windows users, the installation zip file included a folder named "templates". You can safely delete it too.
Deleting $HOME/.raw2nef
Finally, you will find a small text file, at your home directory, named .raw2nef. Delete it, and you are done. Sayonara, baby.
Up